On April 22, 2021 in online mode on the Zoom platform was held career guidance work with schools of Ulytau district.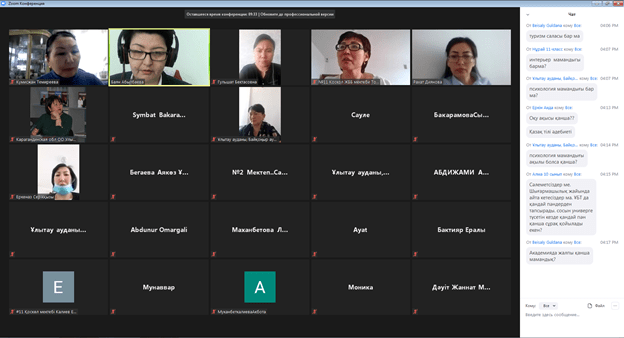 Career guidance work with schools of Ulytau district
On April 22, 2021, on the ZOOM platform, the teaching staff of the Departments of OM "Bolashaq Academy"held an online meeting with graduates of schools of Ulytau district for career guidance purposes. The meeting was attended by graduates and teachers of all schools of the district, specialists of the District Department of Education. The event was organized and conducted by the Executive Secretary of the admissions committee Abylbayeva B. A. The online meeting was attended by teachers of the Department of OP of the Academy Diyanova R. T., Mekadilova S. K., Makazhanova G. B., Apeeva A. Z., Bakaramova S. A., Akhmetova N. T. and others. During the meeting, the following topics were touched upon: § Introduction to educational programs at the Bolashaq Academy; § admission rules; § academic mobility; § the importance of EP in the future. On the part of graduates, questions were asked and expressed interest in accommodation, tuition fees, benefits for tuition, educational grants and other issues related to the University. In the future, remote career guidance work with all districts and cities of the region will continue.