On March 29, 2022 at KSU "Gymnasium № 45" the methodical training seminar on the theme "Opportunities of continuous education of teachers by means of MoEOC" was held for the teachers of humanitarian and natural science directions, which was developed by Dana Daurenova Akhmetova, the 4th year student of IN-18-1 group of the Foreign languages and intercultural communication chair of "Bolashaq Academy" and her supervisor – master of philological sciences, senior teacher, Kalizhanova Anna.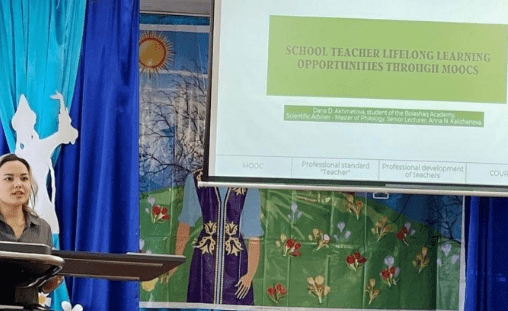 Dana is working on the dissertation "Using MOOCs in the process of teaching English at schools as a factor in the professional development of teachers", the relevance of which is due to lack of study of the issue of integration of MOOCs in the system of secondary education, as well as the need to identify conditions for the successful professional development of school teachers through mass open online courses. This topic is being developed within the framework of the MES RK-funded research project on "Facilitators in the professional development of blended learning educators: effectiveness assessment, methodology, vectors of competence development.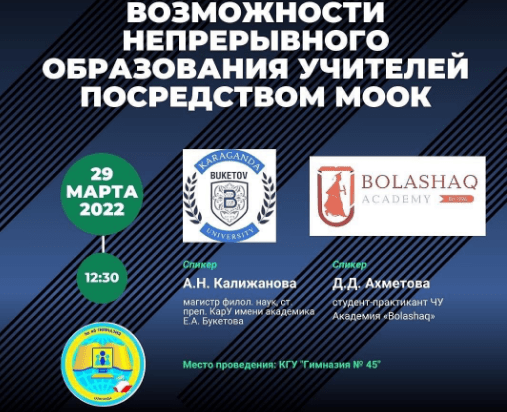 This workshop was held to raise awareness among school teachers about the potential of MOOCs for professional development. Thirteen teachers attended the workshop: 10 in linguistics and 3 in science. The teachers were familiarized with the structure of mass open online courses, advantages and disadvantages. For each qualification category of teachers the courses were recommended which would help to develop their main competencies. The seminar participants were also introduced to recommendations for effective professional development.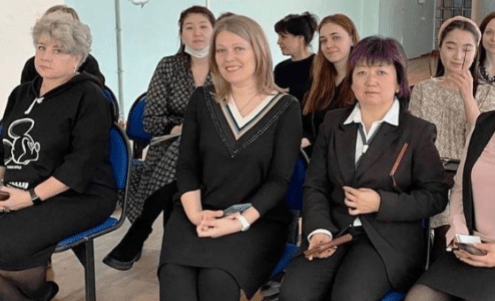 This meeting was the first in a series of methodological training seminars. Meetings with teachers from Balkhash, Saran and Nur-Sultan are planned. The work will be continued.