Khakassia State University. N.F. Katanov Khakass State University published on its official website information about the online round table dedicated to the problems of combating corruption, extremism and terrorism, drug trafficking and human trafficking, with mention of the faculty of the Department of Legal Disciplines, who took an active part in the event.
Source: http://khsu.ru/news/v_xgu_obsudili_voprosyi_protivodejstviya_korrupczii
KSU discussed anti-corruption issues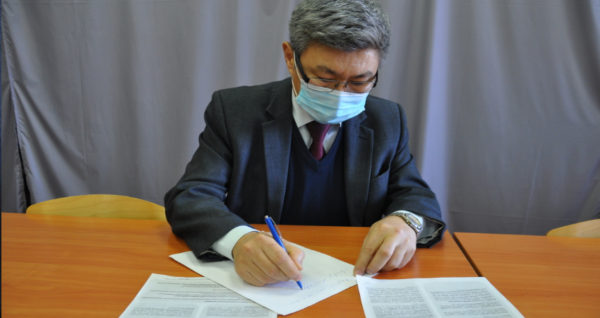 The Institute of History and Law at Hakas State University held a round table entitled "Countering Corruption, Terrorism and Extremism, Drug Trafficking and Human Trafficking (Traffic)". The discussion was held as part of the 10th Anniversary X All-Russian Scientific and Practical Conference with international participation "Evolution of State and Legal Systems". Given the limitations of public events, the round table was held online as a video conference.
It was attended by over 50 people: undergraduate and graduate students, teachers of the Institute of History and Law of KSU. Candidate of Legal Sciences, Professor of the Department of General Legal Disciplines of Karaganda Economic University (KazPotrebsoyuz) of the Republic of Kazakhstan DaurenBalgimbekov, Head of Economic Security and Anti-Corruption Department of the Ministry of Internal Affairs of the Republic of Khakassia Vladimir Danko, Candidate of Legal Sciences, Professor, Head of the Department of Legal Disciplines of the Academy "Bolashaq" of Karaganda City of the Republic of Kazakhstan Akylbek Kabzhanov also presented their reports.
Foreign scientists noted the high level of professional training of our students. Issues related to the fight against human trafficking, illegal labour force, sanctions applied to corrupt officials in the CIS countries and many other topics aroused great discussion. Our students made presentations on their graduation work, and they were interested to learn about the situation with corruption problems in another country," says Eduard Sagalakov, one of the organisers of the round table, PhD in History, Associate Professor and Head of the Theory and History of State and Law Department at KSU.
It should be noted that the materials prepared for the round table will be published in a collection and also published online.