On April 2, 2022 for the teachers of humanitarian and natural-science directions of Karaganda State University " School – Lyceum № 17″ was held a methodical training seminar on " Opportunities of Continuous Education of Teachers through MOOCs". Balkhash city on the topic "Opportunities for lifelong learning for teachers through MoEOC" was held. The speakers of the seminar were Dana Daurenova Akhmetova, the 4th year student of IN-18-1 group of the Department of Foreign Languages and Intercultural Communication of "Bolashaq Academy" CSU, her supervisor – master of philological sciences, senior teacher, Anna Kalizhanova and supervisor of the MES grant project on "Facilitators in professional development of teachers on mixed teaching: performance evaluation, m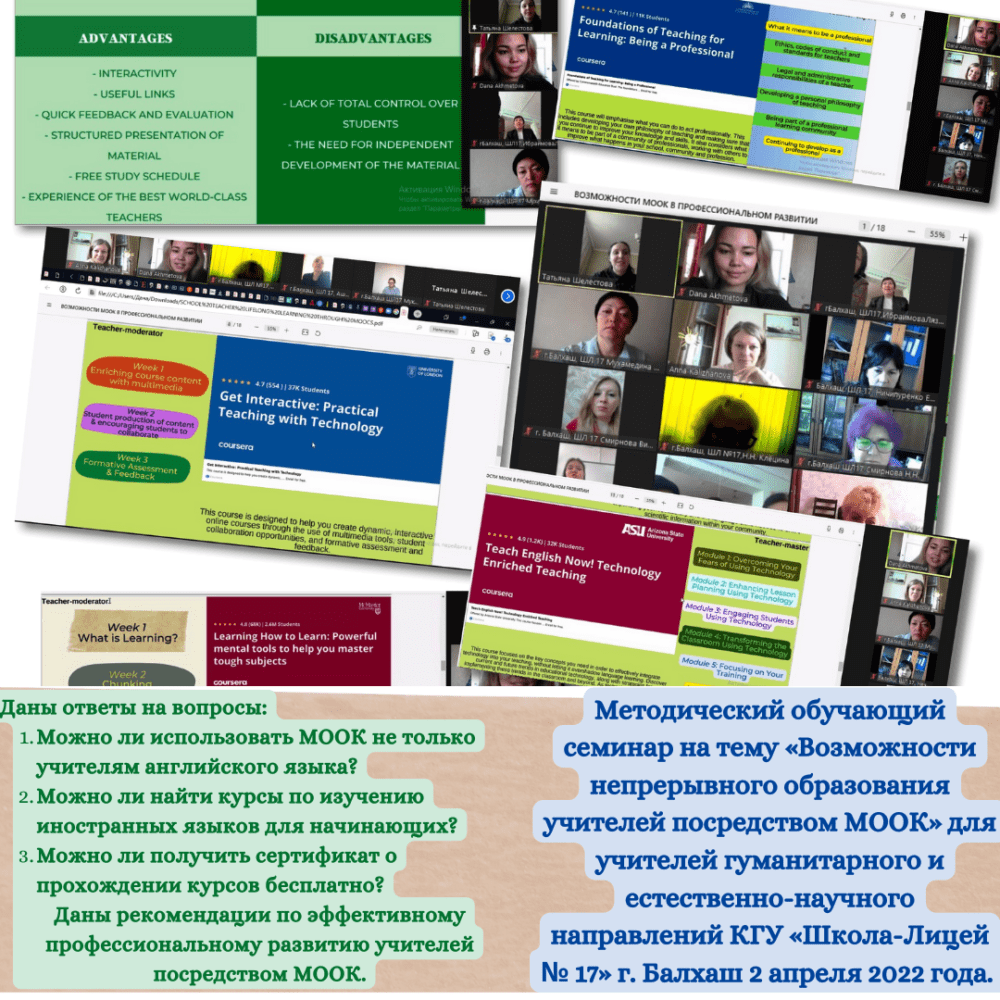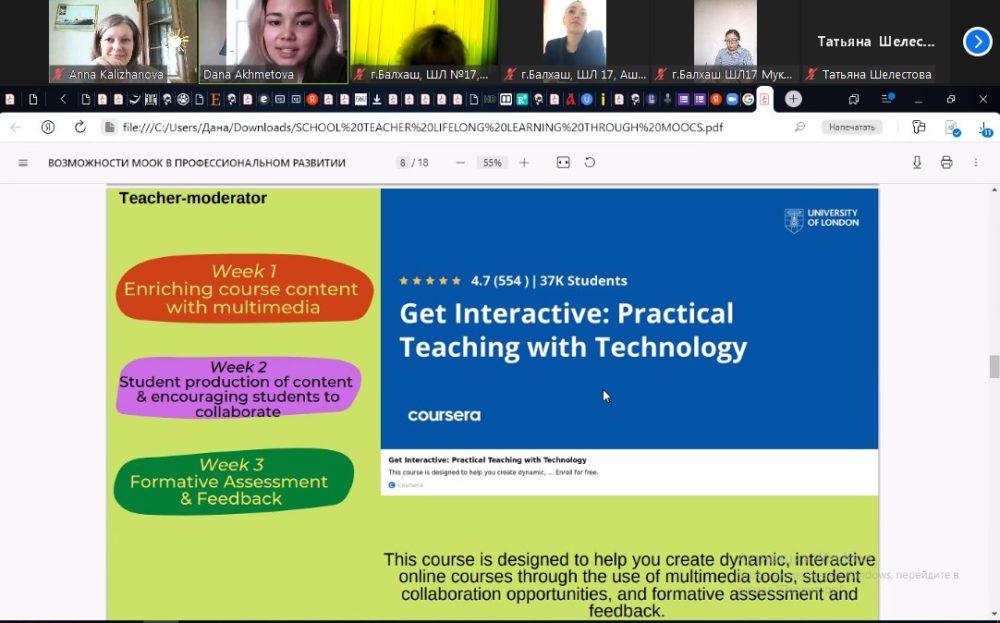 This workshop was the second in the series of seminars aimed at raising awareness of school teachers about the potential of MOOCs for professional development and further application of materials of mass open online courses in pedagogical practice. The conditions under which the school teachers could successfully apply the MOOCs in their professional practice were identified by Dana within her diploma thesis "The Use of MOOCs in the English Language Teaching Process in Schools as a Factor of Teachers' Professional Development", taking part in the grant project as an observer.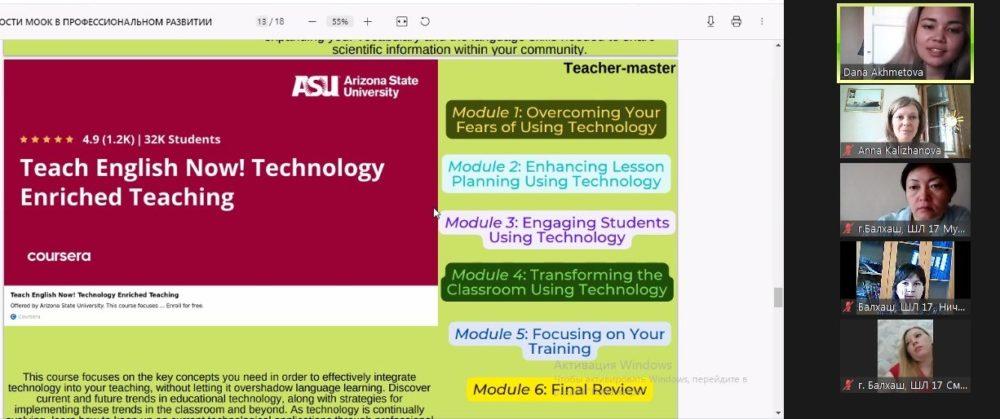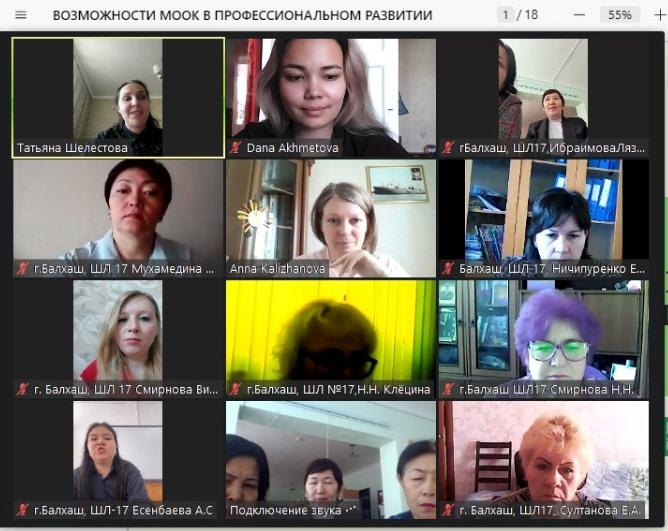 .
Teachers were familiarized with the possibilities of MOOCs and specific courses that were selected for each qualification category of teachers in order to facilitate their preparation for successful certification. Participants were provided with recommendations for effective professional development. At the end of the workshop a questionnaire created using Google Forms technology was used as a reflection tool.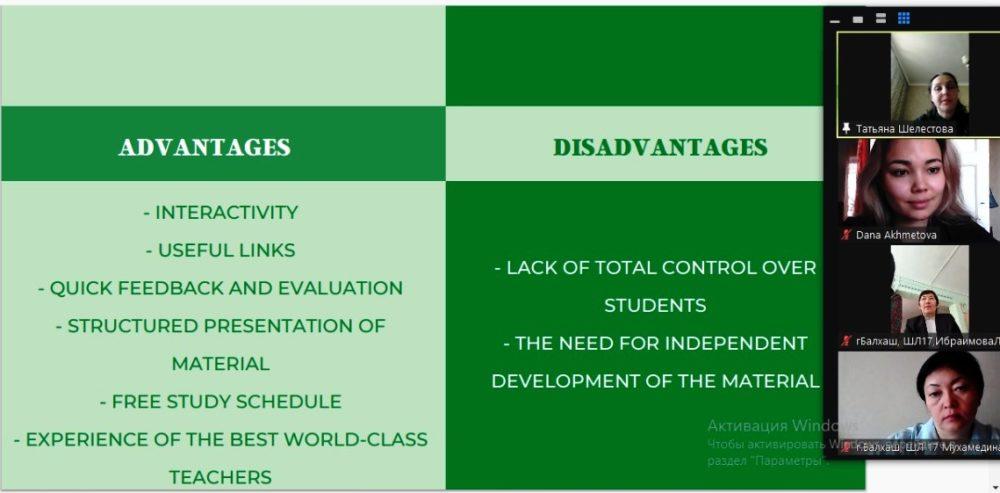 Speakers were asked questions such as:
1) Can MOOCs not only be used by English teachers?
2) Is it possible to find language courses for beginners?
3) Is it possible to obtain a certificate of course completion for free?
Currently, we are working on developing a course to teach how to properly support MOOCs, and a series of training seminars is ongoing: Saranj and Nur-Sultan are on the way.
Thank you to the participants for their active participation and interest!