On February 18, 2022 there was held the next meeting of the International scientific and methodical seminar devoted to actual problems of teaching, education and development of personality of the pupil in a multicultural educational environment of schools and higher educational institutions of the Republic of Kazakhstan and the Russian Federation.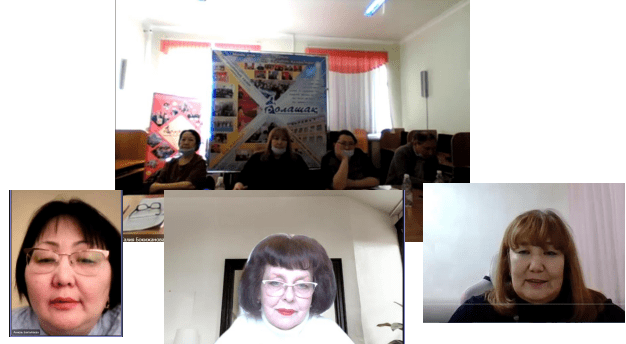 The organizers of the next scientific-methodical seminar were the Department of Russian language of the Peoples' Friendship University (Russian Federation) and the Center of the humane pedagogics of the Academy "Bolashaq" (Republic of Kazakhstan).
It is pleasant to note, that the Department of Russian language of the Kazakh National Medical University named after Sanzhar Zhafarula Asfendiyarov (Republic of Kazakhstan) took part in a seminar.
The welcome speeches were made by the head of the Department of Russian Language, Doctor of pedagogical sciences, professor Kurilenko Victoria Borisovna, vice-rector for research and international cooperation Academy "Bolashaq" candidate of economic sciences, associate professor Gulzhan Adilovna Kadyrova and director of the Center for Humanistic Pedagogy Academy "Bolashaq" candidate of pedagogical sciences, assistant professor Galiya Bokizhanova, head of the Russian language department of Kazakh National Medical University Annel Tlyumagambetovna Baktybaeva.
Employees of Karaganda Technical University took part in the seminar at the invitation of the Center for Humane Pedagogy of Bolashaq Academy.
news-CENTER OF HUMAN EDUCATION DOWNLOAD
The international scientific-methodical seminar "Polycultural Education in the XXI Century: Trends, Problems, Perspectives" is an effective and successful platform for demonstration of results of the scientific activity of Russian and Kazakh researchers, for formation of unified approaches to the solution of actual problems of teaching Russian in the polycultural educational environment, and also for improvement of professional competence of Russian language teachers through realization of transfer of modern methods, technologies and means of teaching Russian.