On 03.02.2022 according to the plan of educational work for the students of full-time courses of the department of "Foreign languages and intercultural communication" teachers Pitimirova T.V. and Bilzhan A.B. organized and conducted curatorial hour on the theme "Healthy body – healthy mind".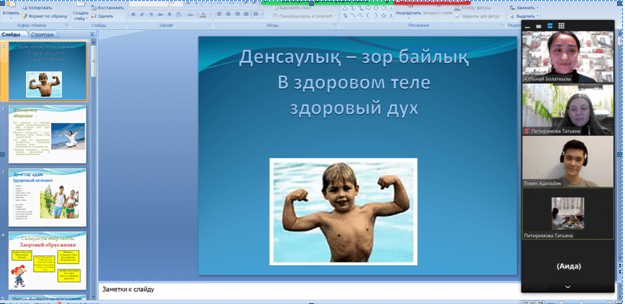 The goal of the curatorial hour was to form students' ideas and knowledge about right and healthy way of life. During this educational event teachers tried to:
lead students to understand that being healthy is a duty to themselves, their loved ones and society;
to help students understand their attitude towards the necessity of being healthy;
to form personal responsibility for a healthy lifestyle;
lead students to the conclusion that only a healthy lifestyle can prolong our lives.
Students of 1-3 years of the Faculty of Foreign Languages actively participated in the curatorial hour. Students shared their opinions on what "health" means, what is included in the understanding of "a healthy lifestyle", how it can be observed and much more.