On November 23, a competition of experts "Myn bir makal, zhuz bir zhumbak" was held at OSH State University No. 23, among 3 "A", "A", "E" classes organized by 3rd-year students Nurken Yerenaz and Seyduali Madina, studying under the educational program "Pedagogy and methodology of primary education" of the Academy "Bolashaq"
Purpose: to teach students to overcome difficulties by guessing proverbs and sayings, riddles, broaden their horizons, increase motivation to read. Before the start of the competition, a jury was elected.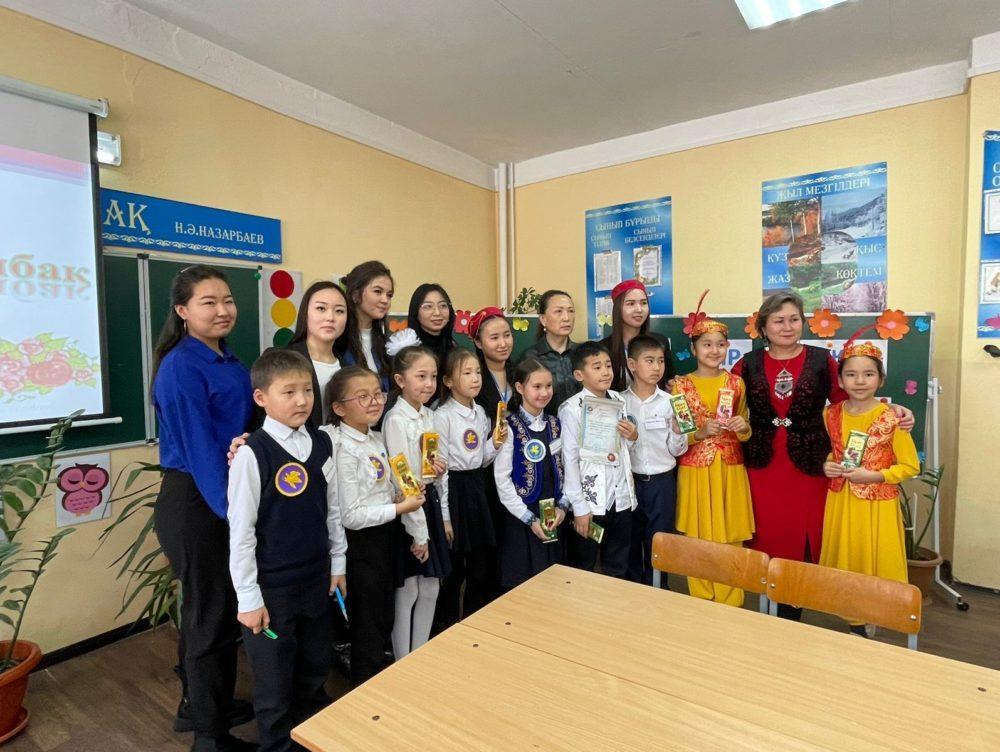 Make up the jury:
Koshkimbayeva Asem Kenzhebaevna – Deputy Director for specialized training;
Kaldybayeva Bayan Ibashevna – primary school teacher, teacher-researcher;
Kurmankulova Azima Tasbekovna – teacher-expert, head of the primary school association.
The winners were determined by the numbers of points from 1 to 10.
The students were divided into 3 groups: "Kyran", "Tulpar", "Sunkar". The competition began with an introduction. The leaders of the groups familiarized with the composition of the group, slogans, badges.
The competition consisted of five rounds. First round: "Kim kop biledi?": in this competition, each group was given 3 minutes, each group performed with proverbs. Second round: "Makal – sozdin mayegi". A handout paper was distributed here. The beginning of proverbs and sayings is given on paper, groups should write this proverb further. In this round, we noticed the cohesion of the groups and helped each other. The third round: "Kim tapkyr?". In this round, all groups were given the same puzzles. The one who raised his hand first and answered, scored points.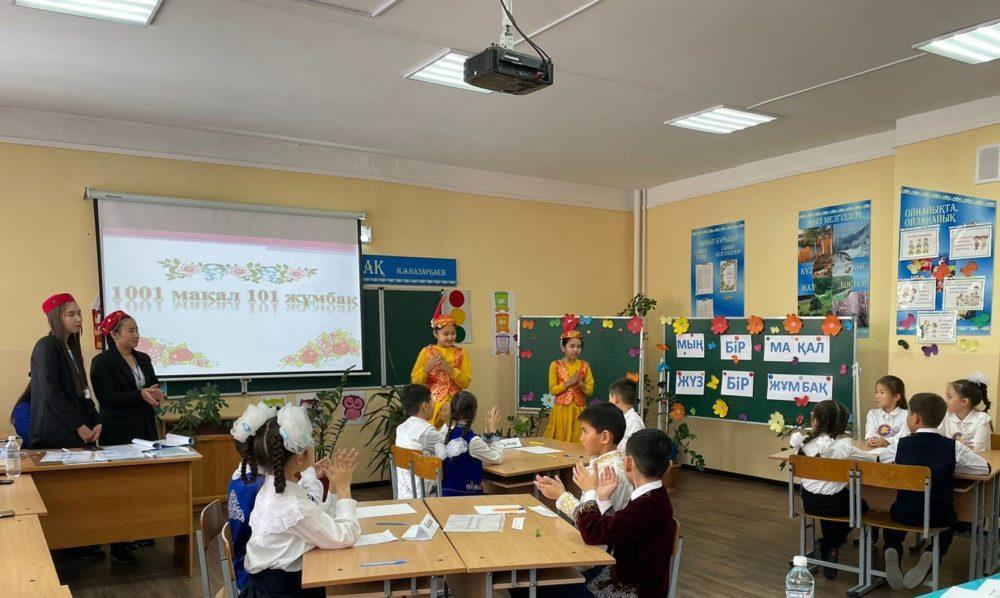 After 3 rounds, a physical training session "Hokey-pokey" was organized.
In the fourth round: "Danalyk oidan dan izde" three groups were given proverbs and sayings, children should reveal the meaning and explain the meaning. In the "Oilan, tap" tour, students together with the group solved puzzles and read the answers.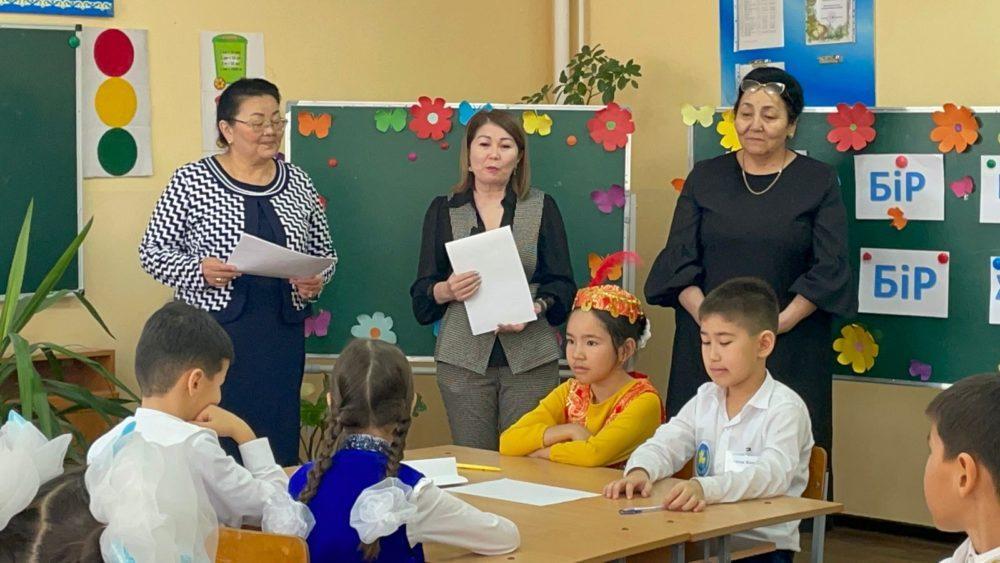 The competition plan is drawn up in accordance with the curriculum of the 3rd grade. The guys worked in groups and honed their knowledge. Understanding the values of proverbs and sayings, he revived the indelible Kazakh heritage that came from our ancestors and deepened the meaning.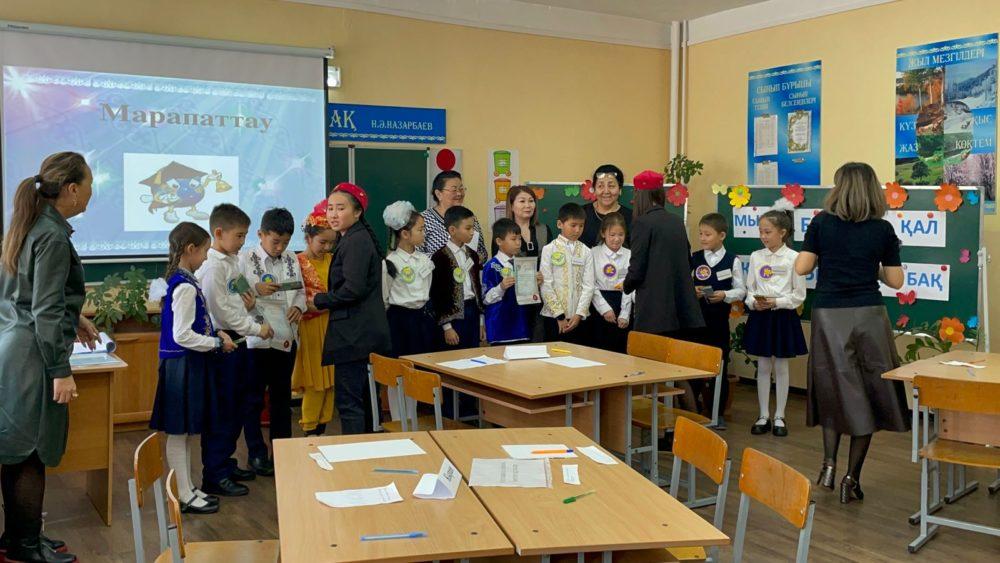 The guests of this competition were the head of the Department of Pedagogy, PhD, Associate Professor Dana Salamatovna Asakaeva and senior teachers Riza Nabievna Zhapanova, Kalimash Amangeldinovna Sarbasova, Zhanna Anuarovna Arunova, as well as 1st, 2nd, 3rd year students of the OP "Pedagogy and Methodology of Primary Education", the management of secondary school No. 23 and primary school teachers.
The competition was held at a high level. The results of the jury were summed up, the children were presented with commendation sheets and small gifts. The winners were determined by the number of points scored.