The collective monograph "Innovative technologies of active citizenship formation in the system of continuous education of the Republic of Kazakhstan: challenges of COVID-19 era" prepared by the authors' group represented by A. U. Aupenova, A. N. Kalizhanova, E. R. Keller-Deditskaya, T. V. Maryshkina was published.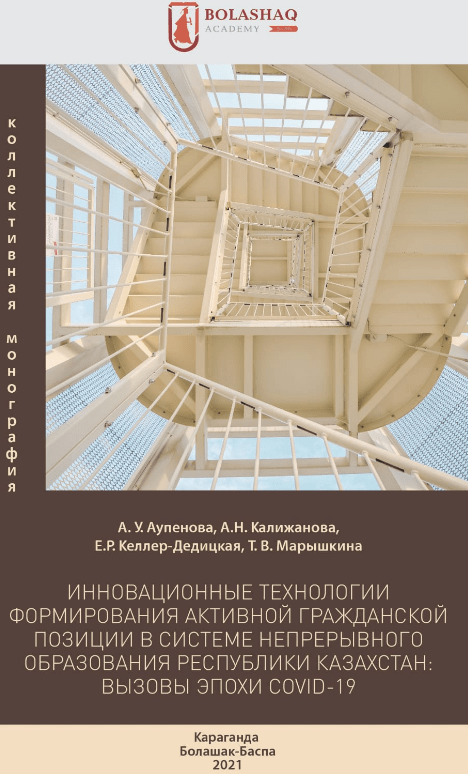 This work is the result of joint work of the authors, who not only comprehend the experience of their own work, but also presented innovative practice-oriented approaches to the formation of active citizenship in the light of the "Ruhani Zhangyru" in the system of lifelong learning with specific examples of their application in educational and extracurricular activities in the pandemic and post-colonial period. The analysis of modern trends in training and education of the younger generation in the language classes and extracurricular activities was conducted.
The monograph was reviewed and discussed at the meeting of the Scientific and Technical Council, approved by the Academic Council of the Academy and is intended for teachers of higher educational institutions, doctoral candidates, undergraduates, students of all educational programs and teachers of schools, colleges.
The innovative practice-oriented approaches to the formation of active citizenship, which organically combines patriotism and multiculturalism, the understanding of responsibility for one's own destiny and the destiny of one's country, the ability to withstand modern global challenges, suggested by the authors, are activity-competent factors in modern education.
The sections of the monograph are logically arranged according to ten components. Chapter 9 was prepared under the project "Mass Political Repressions in Kazakhstan in 20-50s of the 20th Century and Rehabilitation Processes: Creating a Uniform Database" supported by the Ministry of Education and Science of the Republic of Kazakhstan.
The monograph has successfully attempted a comprehensive review of effective tools that meet the needs of continuing education, which allows continuing work on the formation of civic position in the conditions of distance learning.
You can get acquainted with the monograph in the library fund of the Academy "Bolashaq".