On March 13, 2023, the Department of Kazakh Language and Literature of the Bolashaq Academy held the first stage of the distance Olympiad "TIL-KAZYNA-2023" among students of grades 11 of secondary schools, lyceums, gymnasiums of Karaganda, Ulytau and other regions.
The purpose of the Olympiad:
To promote the choice of profession within the framework of "2023 zhyl – Auyl Zhyly", in order to promote the language, their national interests with a new idea, new views, popularization of the art of speech among young people, improving artistic skills, patriotism, respect for the village, native land.
According to the first stage, 55 applications were received for an essay on the topic "2023 zhyl – Auyl zhyly". Including:
from Karaganda-25
Abai-2
Shakhtinsk-1
Balkhash-1
from Shetsky district -2
from Karkaralinsky district-13
from Bukhar-Zhyrau district-9
from Almaty region-1
from Zhambyl region-1
The teachers of the department checked the essays based on the main criteria, selected the best among them and gave a ticket to the second stage..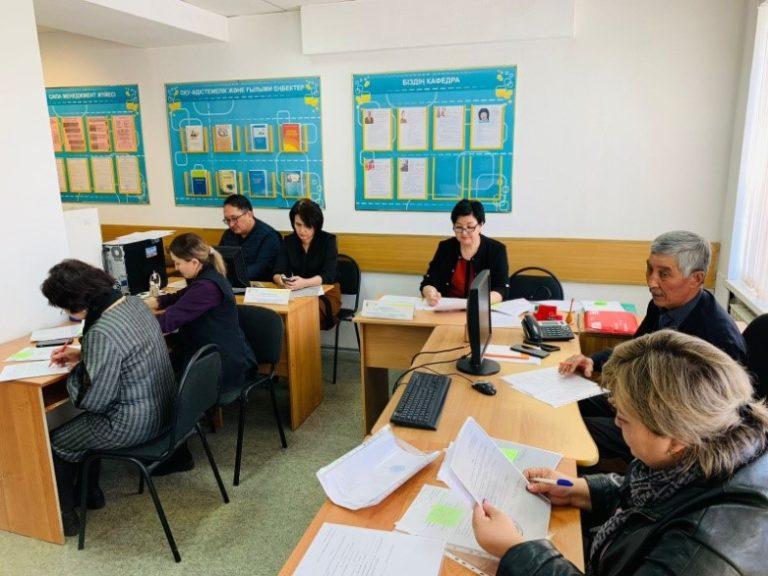 The second stage is 17.03.2023 on the ZOOM platform at 10.00. (the link will be sent the day before.)
According to the results of the I stage of the Olympiad
Students who have passed the II stage:
Student's full name Organization of education
1 Bolat Dilyara Yerlankyzy, Karaganda, SOSH im. Alikhan Bokeikhanov
2 Isina Ayaulym G. Abai, Shokan Ualikhanov Lyceum School
3 Omar Nagima Bukhar Zhyrau district, Botakar village, Kazakh support school named after Sultanmakhmut Toraighyrov (RO)
4 Askarova Aliya Gazizovna Bukhar-Zhyrau district, Sheshenkara village, KSU Sheshenkara Secondary School
5 Akhmetova Aisha Zhanatovna, Karaganda, Nurken Abdirov School
6 Muratbek Gulayim Kanybekkyzy Almaty region, Zhambyl district, Shilibastau secondary school
7 Nygmet Ayaulym Sabitkyzy Shetsky district, Taldinskaya SOSH
8 Kazibek Akbota Omirbekovna Bukhar-Zhyrau district, KSU "Kushokinskaya SOSH"
9 Kuandykova Ainura G. Abai, Shokan Ualikhanov Lyceum school
10 Sarsen Miras Armanovich Shakhtinsk, KSU Secondary school No. 2
11 Shamit Tolganai Dulatkyzy Shetsky district, Nurinskaya SOSH
12 Korpebayeva ulpan Kaydarkyzy, Karaganda, secondary school No. 17
13 Kamalova Zhulduz Shakhtinsk, Alikhan Bokeikhanov Lyceum school
14 Serik Aliya Birzhankyzy KSU secondary school No. 33 village Karabulak Karkaraly district
15 Ybrakhym Ybraikhan, Karaganda, NIS
16 Kapas Shugyla, Karkaralinsk, Kazakh school No. 1 of O. Zhautykov Secondary School
17 Maksut Nurayym Aydoskyzy Karkaraly district, P. Karagaily secondary school No. 1
18 Serikkyzy Ayana Kazakh School No. 1 ZHBB named after O. Zhautykov, Karkaralinsk
19 Amangeldykyzy Kymbat Secondary school No. 6 of Karaganda
20 Kerimbek Karakat KSU Specialized boarding school "Murager" of the Department of Education of the Karaganda region
We wish good luck to the candidates who entered the second stage of the Olympiad. Educated, valiant, patriots who contribute to the development and prosperity of the future are you!