On April, 5th, 2022 Candidate of Law, associated professor, pro-rector on strategic development of Academy "Bolashaq" Rysmagambetova G.M. and M.J., director of "Rukhaniyat Centre U. Aupenova took part in the meeting of the scientific-expert group of the Assembly of Peoples of Kazakhstan of Karaganda region in the House of Friendship.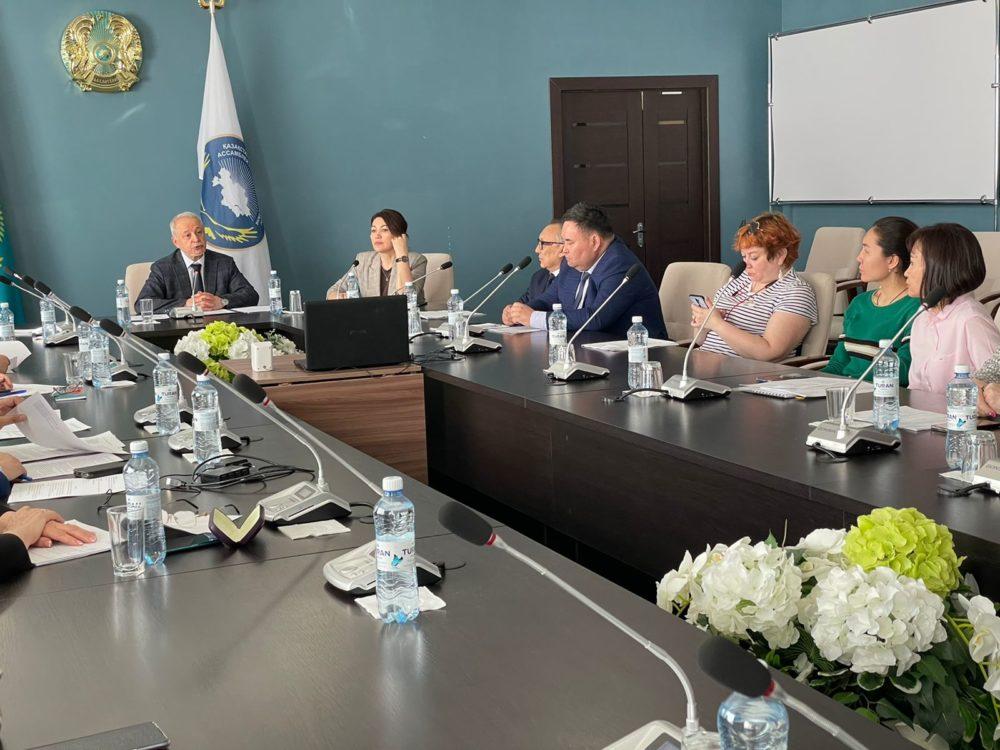 The first priority at the meeting was given to the discussion of the Address of the Head of State K-Zh.K. Tokayev to the people of Kazakhstan "NEW KAZAKHSTAN: the path of renovation and modification".
Director of KSU "Kogamdyk kelisim" of Internal Policy Administration of Karaganda region A.A. Isbekova acquainted the members of Karaganda region APK SEG with the directions of work and planned activities for 2022. Among them:
Holding events dedicated to the 30th anniversary of the approval of the State symbols: Flag, Emblem and Anthem of the Republic of Kazakhstan;
105th anniversary of the founding of the Alash Party;
The 150th anniversary of the outstanding socio-political figure Akhmet Baitursynov;
Realization of the project "Kazakhtanu" in the framework of a regional lecture hall for the popularization of the Kazakhstani model of social harmony and national unity with the involvement of representatives of the Kazakh intelligentsia: cultural and scientific figures, journalists and bloggers;
Organization and implementation of the APK People's Expedition 'Way of Peace and Harmony' with the participation of ethno-cultural associations;
Celebration of the 100th anniversary of the Hero of the Soviet Union, Manshuk Mametova – International online conference "Lessons of courage: Touching a feat";
Realization of the project of Assembly of the people of Kazakhstan "Memory in the name of the future", devoted to Day of memory of political reprisals victims;
Scientific – cognitive expedition "Ұлы dalanyң Тәуелсіз елі" in the framework of the project of Assembly of the People of Kazakhstan "Eltanu" / "Know your ground";
Round table "Rule of law of sovereign Kazakhstan – a vector of sustainable democratic development" dedicated to the Day of Constitution in the RK and 30th anniversary of adoption of State symbols of Flag, Emblem and Anthem of the Republic of Kazakhstan;
Creative laboratory "Kazakultynyn kemenger zhazushysy" dedicated to celebration of Mukhtar Auezov's 125th anniversary;
Round table "Dialogue of cultures: the heritage of A. Kunanbayev and A. Pushkin in international cultural integration of the CIS countries";
Organization and carrying out of the Republican student scientific conference "Kazakhstan – my Motherland", dedicated to the Independence Day and the 110th anniversary of Dinmuhamed Kunayev.
Members of the SEG APK are tasked with carrying out practice-oriented activities aimed at enhancing civic and legal culture and strengthening social harmony, nationwide unity in Kazakhstani society; involving the public in research projects exploring the value orientations of young people.