On February 12, 2021 there was held a regional competition Zhas Zanger-2021 among 11th grade pupils, lyceums, gymnasiums and college graduates of Karaganda and Karaganda region, organized by the Department of Legal Disciplines of the Academy "Bolashaq" together with the Department of Education of Karaganda region.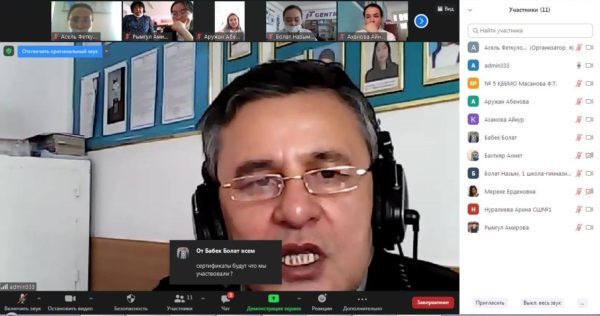 The competition was held in online format (ZOOM platform).
The aim of the contest "Zhas zanger-2021" – is to promote legal knowledge and legal culture, identification and support of talented and creative young people with skills and potential abilities of legal thinking.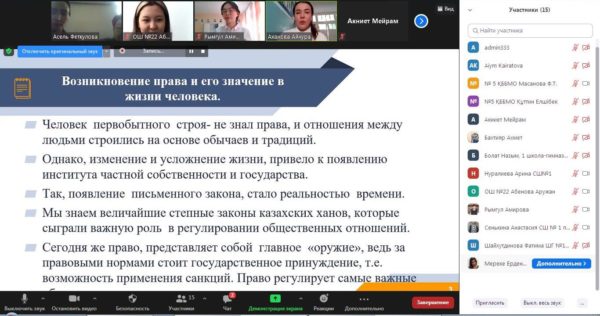 The objectives of the competition are:
1)active assistance in choosing a future profession – a lawyer;
2) development of creative abilities of independent thinking and presentation of their thoughts;
3) development of writing skills;
4) development of public speaking experience;
5) initiation of students and teachers to legal education;
6) increasing legal literacy of students in modern life.
In the competition 42 schoolchildren from Karaganda, Priozersk, Saran, Satpaev, Temirtau, Zhezkazgan and Shakhtinsk took part.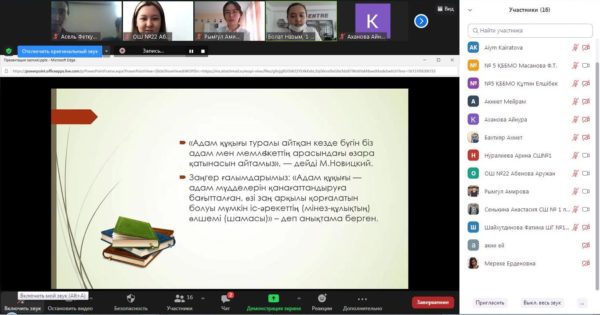 The competition consisted of 2 rounds.
The first round (off-site) – selection of the essay on the theme: "The Role of Law in Modern Society" was conducted in the period from January 22 to February 9, 2021.
In selecting the essays the Contest Committee was guided by the following criteria:
independence, ability to analyze;
Presentation style, originality;
literacy;
degree of argumentation;
erudition of the author.
The second round – remote round, based on the platform ZOOM took place on February 12, 2021 in the form of an essay defense. On the 2nd round were invited 11 participants, who passed pre-selection.
The winners were placed as follows:
Summing up the results of the competition:
1 place – a grant of the Rector of the Academy "Bolashaq" for free education in the first year of the Academy "Bolashaq" took Abenova Aruzhan Abenovna KSU "School № 22" Zhezkazgan. The head of Akhmetzhanov Daulet Akatovich (city of Zhezkazgan).
The 2nd place – 50% discount in payment of tuition fee for the first course was taken by Kairatova Ayim Ersenovna of school gymnasium ¹ 104 of Karaganda the Leader Uksukbaeva Mereke Erdenovna.
Nuralieva Arina Kenzhetaykyzy School № 1 of Priozersk took the 3rd place with a 25% discount on tuition fees for the first course. The head of Karabaeva Marzhan Lesbekovna.