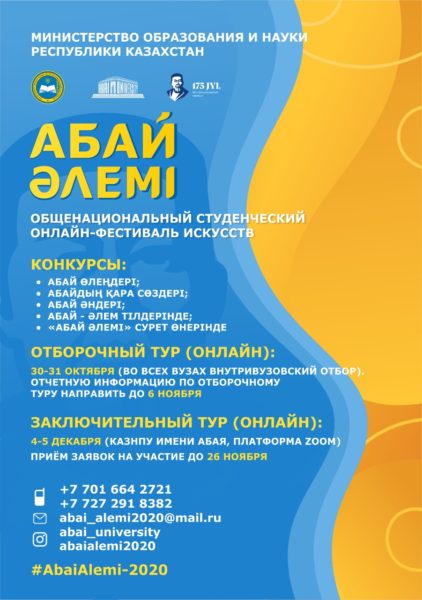 Academy "Bolashaq" summarized the results of the qualifying round of the National Student Online Arts Festival "Abai Alemi", organized by the Ministry of Education and Science of the Republic of Kazakhstan.
The results were held online.
The jury acted as a jury:
B.T. Akhmetova – Vice-Rector for Social and Educational Work,
Bagdal Aibolat is a teacher at the Kazakh Language and Literature Department,
Tukubaeva G.N. – senior teacher of the Department of Pharmaceutical Disciplines,
Kozhahmetov Marlen is a student of the Academy.
The work of the winners of the selection round will take part in the final round, which will be held online on 4-5 December 2020.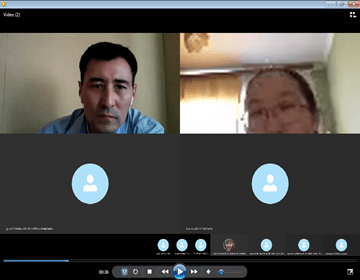 The composition of the jury:
Akhmetova Botagoz Telmanovna – Vice-Rector for Social Affairs and Education.
Bagdal Aibolat is a teacher at the Kazakh language and literature department
Tukubaeva Gulmira Nurakhmetovna – Senior Lecturer of the Department of Pharmacy
Kozhakhmetov Marlen Askarovich is a student of Bolashaq Academy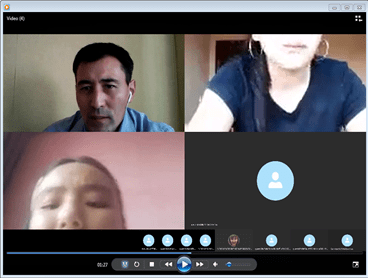 Winners of the qualifying round:
Competition "SONGS OF ABAI" (for candidates without musical education) – Rakhimbekova Rauana 4th year student
Competition "ABAI – IN THE LANGUAGES OF THE WORLD" – Bobokulova Shokhista
Competition "ABAI WORLD" in painting "- Emina Dadaeva
Responsible: Bagdal Aibolat