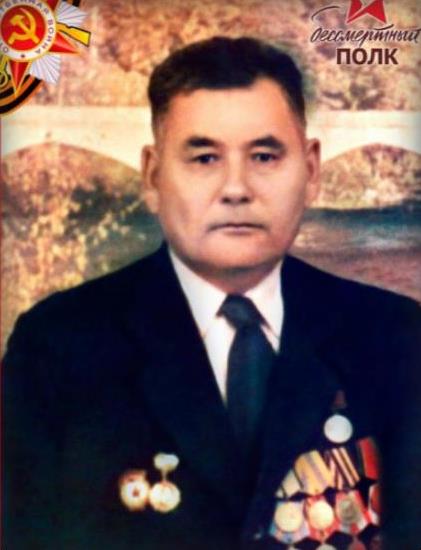 Rysmagambetov Kamiy Makanovich
CORPORAL / SUBMACHINE GUNNER
1.01.1920 – 9.03.1991
In October, 1940, Rysmagambetov Kamiy Makanovich was called up for military service in Adamovskiy RVC. He served in 25th frontier guard detachment of 20th outpost as a gunner. With the beginning of the war he was enrolled in 336th infantry division of the third Ukrainian front, which was commanded by Marshal of the USSR I.S.Konev. He returned in April, 1946 as Guard corporal from Hungary. He participated in the hardest fights for the liberation of Caucasus, then in Europe (in the region of Resheveiti Chamashkh pass). In his reward list it was written: he repeatedly went to the reconnaissance, received valuable information about the enemy. Was acknowledged by Supreme Commander-in-Chief Joseph Stalin. For the worthy service in the ranks of valorous Red Army he received a commendation of Commander-in-Chief of the Red Army Group, Marshal of the Soviet Union I.S. Konev. Awarded the Order of World War II degree, medals "For Services in Battle", "For the Defence of the Caucasus", "For the Liberation of Budapest", "For Victory over Germany", anniversary medals of the Great Patriotic War: 20 years, 25 years, 30 years, 40 years, the USSR Armed Forces: 50 years, 60 years and 70 years.
Before the draft, after the orphanage, he worked as a tractor operator in the collective farm "Novy Byt" of Adamovskiy district. After the war, he worked as a superintendent of the 5th department of the state farm "Anikhovsky", then department 2 of the state farm "Komarova". Yasnensky district of the Orenburg region. Awarded a medal "Veteran of Labor". Retired in 1980. Has a son and four daughters.
He died on March 9, 1991. He is buried in the village Kumak of the Yasnensky region of the Orenburg region.
Granddaughter of the hero Rysmagambetova Gulnara Musievna.