Dear friends!
Yury Zalygin, Chief Medical Officer of Karaganda region, prolonged the quarantine regime with special conditions for business and other activities and life of the population in the region.
⠀⠀
For safety reasons, avoid shaking hands, observe personal hygiene and the ethics of sneezing and coughing, and wear masks.
⠀
Do not allow more than three people to congregate, except members of the same family.
⠀
At the first sign of a respiratory infection, seek immediate medical attention at home, without going to medical facilities, by calling an ambulance.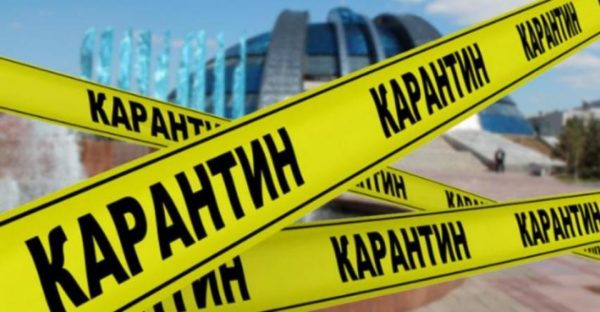 Today, Karaganda region is in the "yellow zone" for the incidence of coronavirus. The epidemiological situation is deteriorating. In this regard, it has been decided to tighten quarantine measures. On what changes await the inhabitants, told the chief sanitary doctor of the Karaganda region Yury Zalygin.
So, 60% of employees of organisations employing 15 people or more will be transferred to a remote working mode. The work of the CPS is being reduced, from 9 a.m. to 6 p.m. by appointment. The work of banks and Kazpost offices is being reduced from 9 a.m. to 6 p.m. Also, the public catering facilities are limited in time: on weekdays, weekends and holidays from 7 a.m. to 10 p.m., with capacity of no more than 50 percent but no more than 50 seats. The operation of takeaway and delivery catering facilities is not restricted.
As for cultural facilities – they may operate, but with an occupancy of no more than 20%. Rehearsals are allowed as long as no more than 30 people participate. Cinemas continue to operate with an occupancy of no more than 20% but no more than 30 people.
On Sunday shopping and entertainment centres, shopping centres and shopping malls with a total area of over 2,000 sq. m. are suspended, except for grocery supermarkets, pharmacies, beauty salons and dry cleaners located in them.
Intra-oblast and inter-city passenger traffic is suspended on weekends with the messages: Karaganda-Temirtau-Karaganda, Karaganda-Saran-Karaganda, Karaganda-Abai-Karaganda, Karaganda-Shakhtinsk-Karaganda, Karaganda-Shahan-Karaganda, Karaganda-Topar-Karaganda.
Also, residents are prohibited from visiting facilities whose activities are prohibited (billiard rooms, karaoke, computer and night clubs, gambling clubs, betting shops). It is prohibited to be in the facilities after their closure.
Yury Zalygin also noted that the epidemiological situation may have been worsened by the New Year holidays, as residents ignored the quarantine requirements anyway, and gathered in large companies.
Source: https://saryarqanews.kz/ru/news/novosti-koronavirus-karaganda/v-karagandinskoy-oblasti-uzhestochili-karantinnye-mery