On November 11, 2020, on the Zoom platform, the senior lecturer of the Department of Pharmaceutical Disciplines, Master of Chemical Sciences Isina Zhannur Amirgalievna, together with the students of the FM-19-2 group, took part in the Republic University named after S. Seifullin.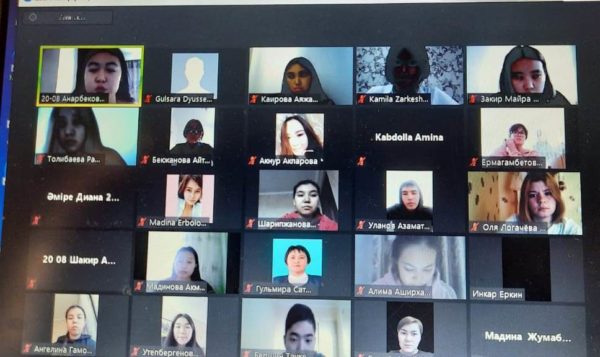 2020 жылдың 11 қарашасында Zoom платформасында фармацевтикалық пәндер кафедрасының аға оқытушысы, химия ғылымдарының магистрі Исина Жаннур Амиргалиевна өзі жетекшілік ететін Фм 19-2 тобының студенттері: Кабдолла Амина, Асанова Гүлшат, Картабаева Гүлжан, Ертай Мәншүк, Насихат Айсұлулармен бірге Нұрсұлтан қ., С.Сейфуллин атындағы Қазақ агротехникалық университетінің «Экоlife» клубы ұйымдастырған «Қазақстандағы экологиялық таза дәрілік шөптер мәселесі» тақырыбындағы республикалық шараға қатысты.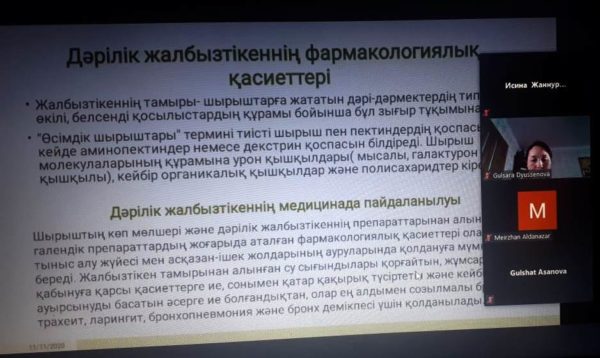 Шара барысында Фм 19-2 тобының студенттері дәрілік шөптерге кеңінен тоқталып, олардың химиялық құрамы мен әсер етуші белсенді топтарымен таныстырса, агротехникалық университеттің студенттері дәрілік шөптерді көбейту, оларды экологиялық тұрғыдан қорғау мәселелерін кеңңінен қарастыра білді. Дөңгелек стол соңында ұйымдастырушы Гүлсара Бақтыбайқызы қатысқан студенттердің барлығына алғыс білдіріп, топ кураторына сертификат берілетінін атап өтті.