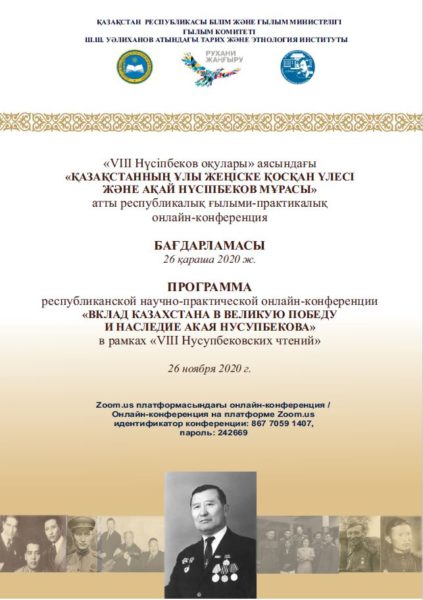 26 November 2020 Director of SIC Rukhaniyat A.U. Aupenova took part in the Republican scientific-practical conference "The contribution of Kazakhstan to the Great Victory and the legacy of Akai Nusupbekov" in the framework of "VIII Nusupbekov Readings" with the report "The epic of the evacuation of 517".
Conference organiser, Institute of History and Ethnology named after Ch. Valikhanov Institute of History and Ethnology of the Committee of Science of the Ministry of Education and Science of the Republic of Kazakhstan.
The following issues were discussed as part of the conference:
The Soviet Union and Kazakhstan on the eve of the war: pre-war situation.
General military mobilization and formation of military units on the territory of Kazakhstan.
National Military Formations of Kazakhstan: history of formation and combat path.
Kazakhstan during the Great Patriotic War: problems of social and economic development of the republic.
Evacuation: reception and location of evacuated enterprises and educational institutions.
Kazakhstan – arsenal of the front: military defence industry facilities in Kazakhstan.
Assistance of the people of Kazakhstan to the front during the war.
Feats of the Kazakh people at the fronts of the Great Patriotic War of 1941-1945.
Kazakhstanis in partisan detachments and the Resistance Movement.
The fate of Kazakh prisoners of war and the problem of rehabilitation.
Kazakhs in the Labour Army.
The contribution of women of Kazakhstan in the Victory.
Kazakhstan during the Great Patriotic War: the historiography of the problem.
Immortalisation of the memory of war heroes and victims.
The role of museums in preserving the memory of the Great Patriotic War.
Historical myths about the war and modern memory policy in Kazakhstan.
New archival sources and documents on war history.