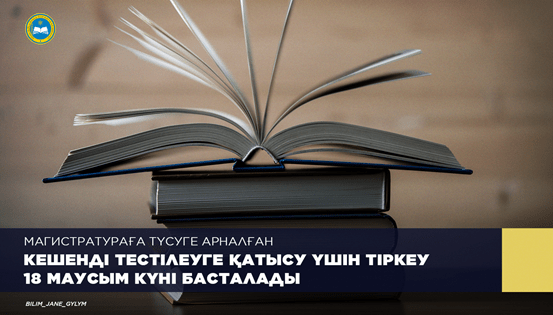 On June 18, registration will begin for those who wish to take part in the comprehensive testing for admission to graduate school.
Registration will be held on the website of the National Testing Center of the Ministry of Education and Science of the Republic of Kazakhstan app.testcenter.kz.
"At registration the place of testing applicants choose independently. Also on the site of the National Center for Testing you can take mock exams. The exams themselves begin on July 20, and will last till August 10," – explained Adlet Toibaev, the Director of the Department of Higher and Postgraduate Education of the MES RK.
As for the format of admission to the magistracy, there will be no changes this year. There will also be a procedure of online appeal in case of disagreement with the results of testing. Within 30 minutes after the completion of testing the applicant will be able to immediately submit an application for appeal.
"Testing for admission to graduate programs consists of three blocks: a foreign language test, a test to determine readiness to study and a test on the profile of the group of educational programs. Applicants who have one of the international certificates confirming knowledge of a foreign language in accordance with European competences (standards), are exempt from the test in a foreign language, "- said A. Toibaev.
It should be noted that this year's passing score for admission to the master's program of state educational order has remained the same – 75 points, for admission on a fee basis – 50 points. The duration of the exam is four hours.
Recall that the total number of grants for undergraduate programs is 56,561 grants, for admission to graduate programs – 13,263, for doctoral programs – 1,890. Grants for training are allocated for in-demand areas.