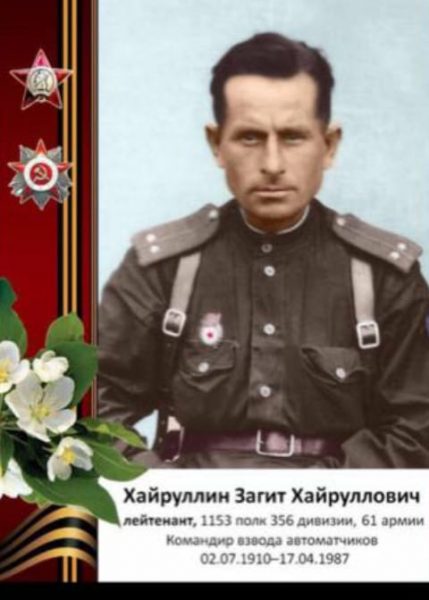 Khairullin Zagit Khairullovich
1910-1987
He was conscripted into the Soviet Army in 1940.
During the war he served in the 1153rd Regiment, 356th Division, 61st Army.
Made his first feat in 1942 during the defense of Stalingrad, as a motorcyclist in 4th separate guards company. Saved his list of soldiers to be awarded for the Battle of Stalingrad.
Took part in the defense of Moscow. He was the commander of submachine gunner platoon.
According to archive documents he made three heroic feats, which are dated 25.07.1942, 07.12.1942 and 06.07.1944, for which he was awarded the Order of the Red Star of 1st degree.
List of awards:
Medal "For Defense of Stalingrad", 22.12.1942;
Medal "For Bravery", 30.10.1943;
Medal "For Defence of Moscow", 01.05.1944;
Order of the Red Star, 17.07.1944;
Medal "For the victory over Germany in the Great Patriotic War of 1941-1945, 09/05/1945;
On April 6, 1985 on the 40th anniversary of the victory over Germany in the Great Patriotic War, was awarded the Order of Patriotic War of II degree.
He celebrated the Victory with the rank of lieutenant.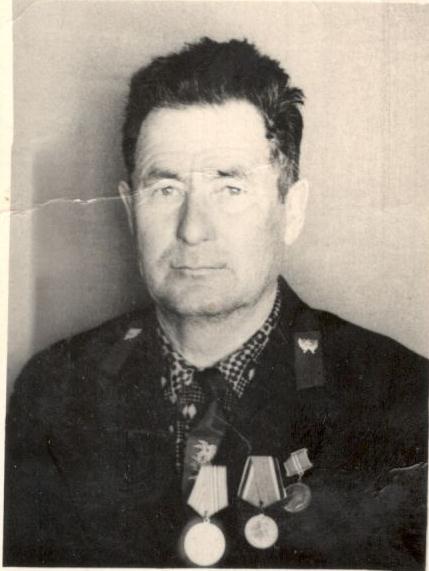 Vakhitov Таlip Khalimovich
1919-1979
He served in the 94th rifle regiment as a junior sergeant during the war with Japan. He was called up to the army service by Aktanyshskiy District Military Commissariat of the Tatar ASSR in 1941.
He finished the war on September, 3rd, 1945. He continued his service in the ranks of the Red Army till June, 1946.
He kept his military ID, under "Government Honours" there is the record "Medal for the victory over Japan".
He was awarded by other medals, which, unfortunately, were saved only in photos.
Granddaughter of heroes Khairullina Alfiya Faritovna