The exhibition "Zulmat zhildar kasireti" opened in Karaganda library named after J. Bekturov for the Day of memory of political repressions and famine, its section is devoted to the literature, published in the framework of the project "Karlag: memory in the name of future".
According to the pages of the city mass media: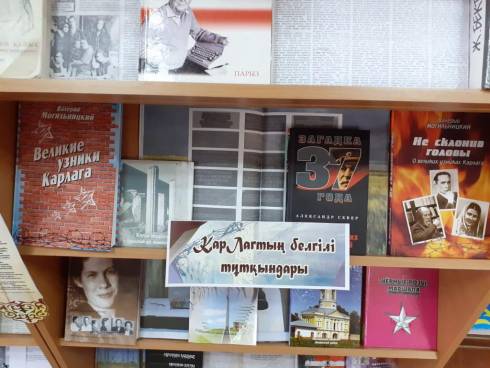 The third section of the exhibition tells the fate of Zhaiyk Bekturov. In May 1942 he was arrested and sentenced in absentia by the special council of the NKVD of the USSR under Art. 58 of the RSFSR Criminal Code for 10 years in prison and exiled to Ivdelleg Sverdlovsk region. This section contains works by Bekturov who wrote many essays about prominent public figures, about Kazakh intellectuals repressed in the 30s-40s: A. Bukeykhanov, J. Aimautov, M. Jumabaev, T. Ryskulov. He described the arrest and the last days of S. Seyfullin in his story "The Last Days of Saken".
The fourth section tells about the fate of prisoners of Karlog. There are the works of Kazakh and Karaganda writers E. Kuznetsova, V. Mogilnitsky, A. Volzhanov, B. Koishybayev, I. Ilyina, and also the books of the Academy publishers "Bolashaq" about Dolinsk department of Karlag telling about the hard years of repressions and privations, about hard fates of people who suffered. They allow readers to understand the absurd, senseless nature of the political repression of those years.
Read more: http://ekaraganda.kz/?mod=news_read&id=106097