Sagyngul Izbassarovna Kopzhasarova, Senior Lecturer at the Department of Legal Disciplines, Academy "Bolashaq" took part in the project "ІІІ International book publication" among scientific and educational institutions of the Commonwealth of Independent States, organized by the Legal Entities Association in the form of "National Movement "Bobek" and was awarded with the breast medal "Best Young Scientist-2021" of the Commonwealth of Independent States for the contribution to the development of science and education, and the 1st degree diploma of the project participant.
The Academy "Bolashaq" congratulates Sagyngul Izbasarovna!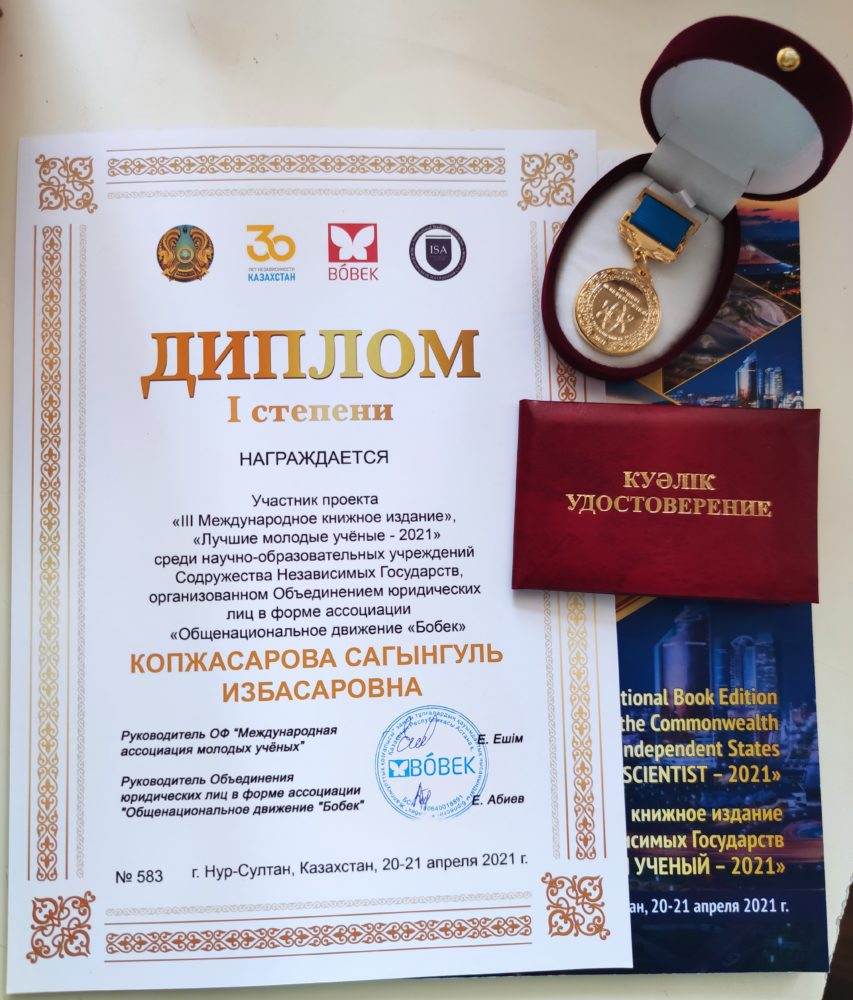 On April 20-21, 2021, the III edition of the book collection of talented young scientists of the friendship of independent states "The Best Young Scientist-2021″ was published among young scientists, students, undergraduates and doctoral students with the support of the Association of legal entities" national movement "Bobek" within the framework of an international project to support the youth of the country organized by the International Association of young scientists (Nur – Sultan, Kazakhstan). The Association of legal entities in the form of the Association of the national movement" Bobek " specializes in holding conferences, on the basis of which author's scientific works in various fields of technical, social and humanitarian sciences are published. The main goal of this project is to place promising results of research and practical developments of scientists, teachers, applicants (postgraduates), students and specialists in various fields of Science and technology, establish theoretical relations between scientists from different regions of the post – Soviet space, exchange of scientific results and research experience. Inclusion in the collection was carried out on a competitive basis. Bolashaq Academy, Senior Lecturer of the Department of legal disciplines Kopzhasarova Sagyngul Izbasarovna took part in this project and was awarded the International Book collection of the best young scientists "Best Young Scientist – 2021", a Specially Designated medal "Best Young Scientist – 2021" and a diploma of the first degree. We sincerely congratulate our colleague!