Turar Ryskulov (Kazakh. Тurar Ryskululy) (1894-1938) – Kazakh statesman in Central Asia and Russia, participant of national liberation uprising of Central Asian peoples, diplomat, bright representative of Kazakh intelligentsia, fighter for rights of Turkic peoples, Founder of the "Bukhara" society (Revolutionary Union of Kazakh Youth), chairman of the Muslim Bureau of the Turkestan Communist Party (1919), the CEC and SNK of the Turkestan ASSR, Paul Comintern in Mongolia, deputy chairman of the SNK of the RSFSR.
Ryskulov contributed greatly to the economic transformation of the Central Asian republics, the Russian Federation and Mongolia. On Ryskulov's initiative, the Turkestan-Siberian Railway was built in Kazakhstan, and powerful industrial centers emerged – coal mining and metallurgical complexes in Karaganda, non-ferrous metallurgy in Eastern and Southern Kazakhstan, and oil and gas industry in Western Kazakhstan. Large national reserves of all-Union significance were established in Kazakhstan and Central Asia.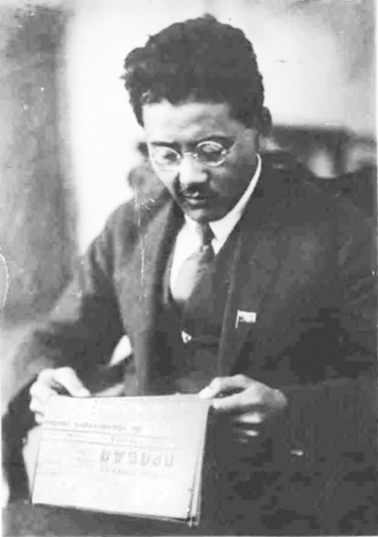 In letters to Stalin, written in 1932-1933, he openly wrote about the fate of his native Kazakh people, suffering from an unheard famine, which was a consequence of the voluntaristic policy of F. I. Goloschekin. Mass exodus of starving Kazakh peasants in the period of collectivization deprived nomadic Kazakhs of its main source of food – cattle. Only after T.'s letters. Ryskulov's letters, the Central Committee of the All-Union Communist Party of Bolsheviks (b) decided the issue of food aid to Kazakhstan.
During mass Stalinist repressions Turar Ryskulov was declared "enemy of the people" and shot on February 10, 1938.
According to the FSB of Russia, transferred to the "Memorial" fund, the list of those buried at the NKVD special facility called "Kommunarka" contains information about the burial of T. Ryskulov. In 1956 he was rehabilitated posthumously.
After the execution of Turar Ryskulov, his wife Aziza Esenkul Tubekkyzy Ryskulova (Kazakh: Aziza Yessenkul Тubekkyzy Ryskulova) was arrested as the wife of the "enemy of the people" and was sent to serve a sentence in A.L.J.I.R. (Akmola camp of wives of traitors of the homeland). She was imprisoned for 8 years, subjected to daily torture.
Source: Material from Wikipedia.