Functions of the Student Services Center:
1) reception and registration of applications for reinstatement, transfer and expulsion of students;
2) review and processing of appeals;
3) reception and registration of applications for all types of paperwork (certificates, academic transcripts);
4) checking the completeness of submitted documents;
5) preparation and issuance of orders on students' personnel;
6) maintenance and control over compliance with the personal files of students during the whole period of study in the Academy;
7) comparing the contingent of students with the Academy departments;
8) registration of privileged categories of students with disabilities (orphans, left without parental care);
9) maintenance and correction of electronic database of students;
10) issuing a standard certificate to students upon request;
11) Maintenance of book of registration of name issuance of diplomas and duplicates;
12) preparation of personal files for further storage and use;
13) transfer of files to the Academy archive;
14) provision of information assistance to students when they apply to the Center.
15) forming an anti-corruption culture among the Center staff;
work on forming;
16) performance of other assignments of the Academy management.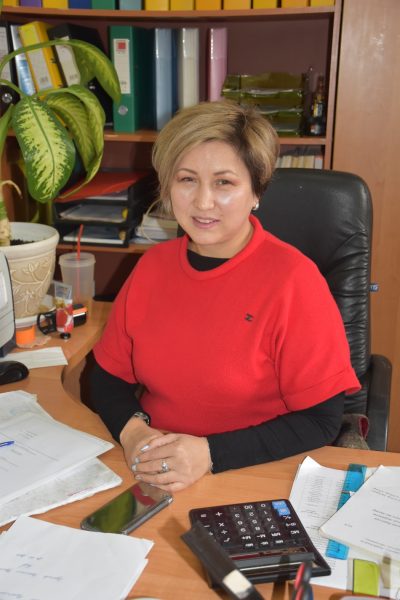 Tuganbayeva Saltanat Tursynkhanovna
Position: Head of the Student Service Center
Education: Higher, graduated from the Karaganda State University after E.A. Buketov, Faculty of Economics.
Karaganda University "Bolashak" Faculty of Law, Bachelor of Law.
Karaganda University "Bolashak" Faculty of Law, Master of Law
Degree: Master of Law
Activity at the Academy:
Since 2002-2003 – specialist of DMU
From 2003 till 2005 – accountant on payment
2005-2008 – Methodist in the Dean's Office, Faculty of Social Sciences
2010 – 2011 – Student Department Specialist
Since 2011 – Head of Student Department. At present time student department is renamed to Student Service Center.
Achievements: Four times nominee of the competition "The best employee of the year".
The owner of the certificate of akim of the area for the contribution in the field of education.
The owner of the letter of thanks of the Minister of Education for the contribution in the field of education
Contacts: 16, Yerubaeva str., room 107, tel. 420425 (ext. 012), cell: 87015523790
e-mail: tuganbaeva.salta@mail.ru