Department is an auxiliary structural unit of PE "Academy "Bolashaq", carrying out organizational work of the university, systematic work on the selection, placement, study, education, training, timely provision of subdivision necessary specialists, employees and workers required specialties and qualifications within the staffing table; accounting and storage of prescribed documentation.
Personnel Department carries out its activities on the basis of legislative and normative acts regulating the relevant issues of the Republic of Kazakhstan, methodological materials relating to the issues of its activities and in accordance with the annual work plan of the Personnel Department. Annually, the department adopts goals in the field of quality, and analysis of goals for the past academic year is carried out.
Management documents reflect the main theoretical and practical aspects of the organization of the educational process in the following areas:
planning, organization, management and control of the educational process;
Ensuring a high quality of work and services;
archive.
Decisions of the personnel department on issues beyond its competence are implemented by the decision of the Academic Council of the university, the rector's office or the order of the rector.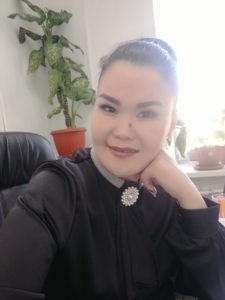 Kussainova Aliya Askarovna
Head of Personnel Department
Address: 205 Abaya str., 17, Abaya str., Karaganda, 100012 Kazakhstan
Contacts: 8-7212-42-04-25 (ext. 010), awka85@mail.ru
Working schedule: Monday-Friday 08.30-17.30