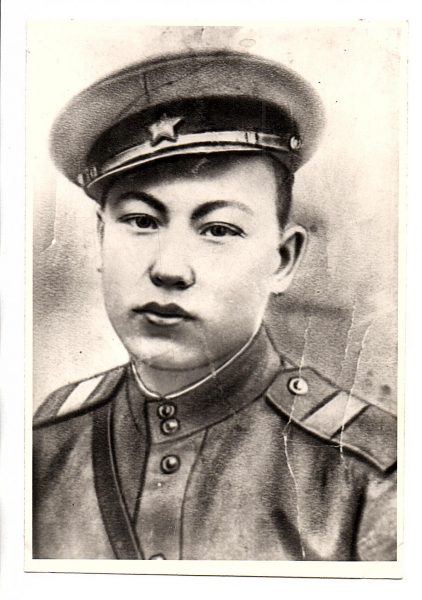 Pass on the memory to future generations: Ibrai Zhulkenov
Since childhood, I saw a black and white photo of a very young man on the wall in our house. I had been looking at it for a long time, as if I was talking to the man in the picture. In his eyes I could see a great love of life and a thirst for knowledge. A great future awaited him, he was an excellent student and all roads were open before him. It was my grandfather – Zhulkenov Ibraj, 1924 year of birth, the native of the Kazakh Soviet Socialist Republic, Akmola area, Atbasar area, Karazhar village.
At the age of 18 years on December, 10th, 1942 Ibrai was called up on front by military rank of the private of Red Army of the Kazakh Soviet Socialist Republic, Akmola area, of Atbasar district. He was fighting from December, 1942 till April, 1945 in structure of 224 shooting regiment.
In April, 1945 the letter where he wrote: "I am near Stettin (Poland), war will end soon, I will come back soon. We will win!". In the soldier's triangle from the front there was a photo card of the senior sergeant which remained in the family.
Ibrai did not return home from the war; the family received the official news that he was "missing. The parents never lost hope and addressed their requests to the military authorities.
On September 02, 1957 the military registration and enlistment office in Atbasar, based on available materials, issued a conclusion: "Soldier Ibrai Zhulkenov was missing while at the front.
According to declassified archival documents of the Red Army and Navy for the period of the Great Patriotic War of 1941-1945, placed in an electronic bank of documents "The feat of the people" in the year of the 75th anniversary of the Great Victory, our family could learn about the day of the heroic death and the place that became the last resting place for our dear man, the searches for whom did not stop all these decades.
According to the "Name list of privates and non-commissioned officers", died of wounds and diseases received at the front in 79 separate medical-sanitary battalion for the period from April 20 to April 25, 1945 Zhulkenov Ibraj, a military rank – senior sergeant, died on April 20, 1945 from the wound received in a stomach and was buried in Germany, Pomerania, area Greifenhagen, folvarque Neuhaus, 100 m northwest from folvarque.
Our generation is the grandchildren of those who went through the war to the end and returned from the fronts, and those who gave their lives for the Great Victory. Our children are our great-grandchildren who will preserve and carefully pass on the memory of the fortitude, heroism and courage of the Soviet soldier to future generations.
Granddaughter of Victory Soldier Aliya Ukuzhanovna Aupenova