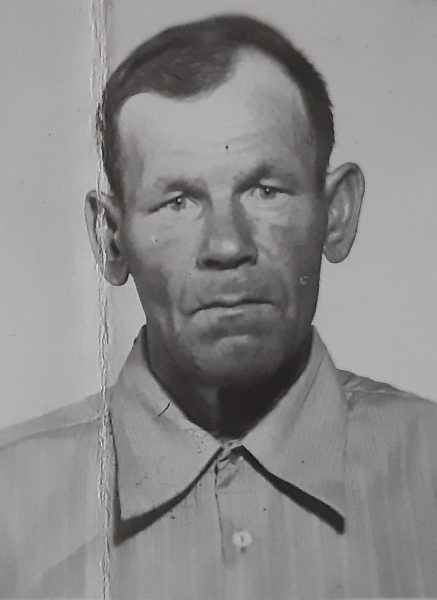 Medvedev Yakov Nikolayevich.
Order of World War II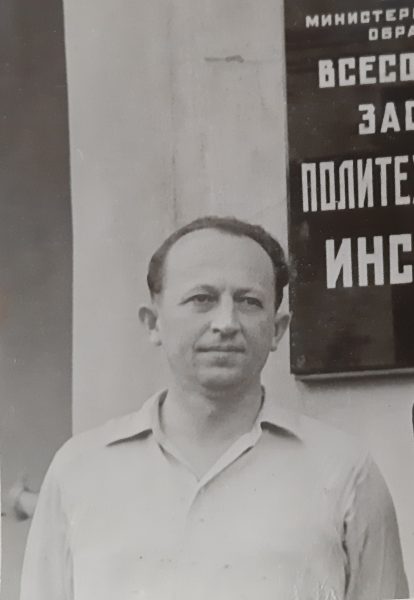 Arnold Heinrich Wiegandt
Order of Great Patriotic War, II class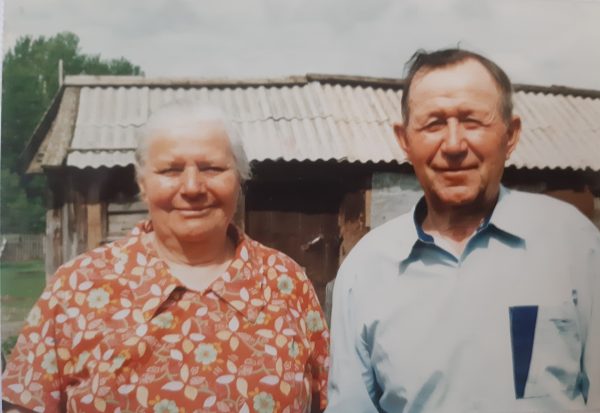 Medvedeva Maria Averyanovna Domnikov Semyon Ivanovich
Order of Great Patriotic War of II class Order of the Great Patriotic War of I class
Granddaughter of heroes Kurlaeva Elena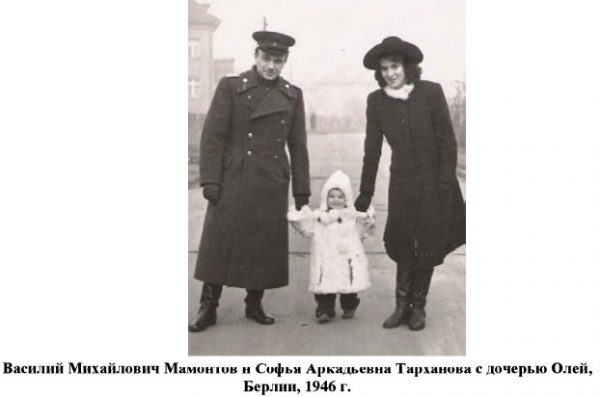 Vasily Mamontov
Date of birth: December, 27, 1918
Lieutenant Colonel
Was born in the village of Shchapovo, Zubtsovsky district, Kalinin region. He joined the Communist Party since 1942. Graduated from the Moscow Library Institute in 1941.
Date of enlistment in the Red Army – June 27, 1941.
Completed 7-month special courses of GPU RKKA at the Military Institute of Foreign Languages in 1943.
Name of military unit: 7th Department of the Political Department of the 1st Brigade of the Red Army, Khimki District Military District, NKVD. Formation of the People's Commissariat for Internal Affairs, Moscow.

Since July 1, 1945 – Head of the Division of Foreign Information of the Information Bureau of SVAG.
Till May 31, 1948 – Head of Foreign Affairs Counterpropaganda Division of the Swag Information Bureau.
Since May 31, 1948 – Deputy Chief of the Swag Information Bureau.
End of Service Date: 17.07.1956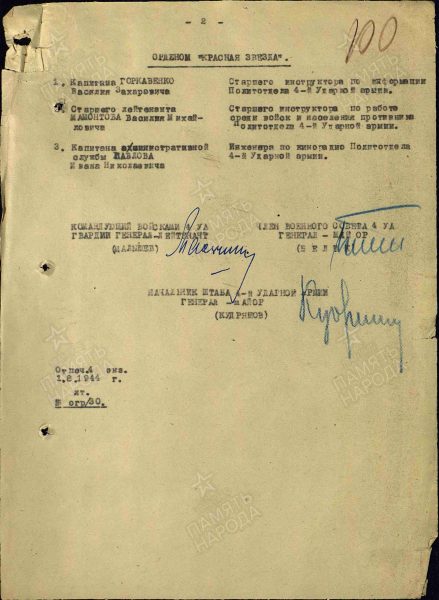 List of awards:
Order of the Red Star – 01.08.1944
Order of the Red Star – 24.06.1948. Date of action: 12.05.1944 – 30.07.1944, Orders of unit: #: 395 of: 01.08.1944, Issued: AF 4 Ud.A. of 2nd Baltic front.
Medal "For Defence of Moscow
Medal "For the victory over Germany in the Great Patriotic War of 1941-1945". – 09.05.1945
Medal "For capture of Koenigsberg" – 09.06.1945
Medal "For Services in Battle" – 19.11.1951
Grandson of the hero Shlyupikov Alexander Alexandrovich.